June 13, 2019
LaQuan's Story
laquan.PNG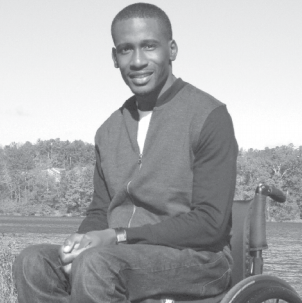 On January 14, 2015 LaQuan Taylor left work and headed to meet up with friends for a weekly bible study. As he drove that afternoon he was reflecting on how blessed he was. 
LaQuan, just 27 years old, had so much to be grateful for. He had a wonderful, loving family. He had graduated Valedictorian of his high school class and proudly enlisted in the Navy to serve his country as so many others in his family had done before him. He served two successful tours of duty in the Middle East without falling into harms way. After enlistment, LaQuan seized a golden opportunity to work for a private contractor in Kuwait and then felt the tug to come back home to Georgia.
LaQuan enrolled at Georgia State University and began to re-engineer his diesel mechanic skills learned in the Navy into a dynamic IT career.  It wasn't long before he landed his dream job and finally bought the Camaro he had always dreamed to drive. Life was good. Really good. But on that Wednesday afternoon, LaQuan Taylor had no idea his life was about to change - forever.  
LaQuan made a last moment decision to pull into a nearby shopping center to withdraw some money to pay his car payment. Little did he know he was being watched. As he walked back to his car, two armed men approached him and demanded his wallet and keys. LaQuan quickly complied. They told him to walk away and when he turned he heard, "pop him!" They shot LaQuan 4 times in the back as he tried to get away. As he fell to the ground, they shot him 11 more times. 
As LaQuan laid on the ground in agony, people were dashing about in fear. No one came quickly to his aid. He cried out to a woman passing by to please call his mom. He wanted to tell her he loved her one more time before he lost consciousness. A nurse jumped in soon thereafter to try to minimize the bleeding until the EMTs arrived. And then it all went black. No one was sure in that moment if LaQuan Taylor would ever see the light of day again.
LaQuan was airlifted to Grady Memorial Hospital where he spent the next two months in ICU. The bullets did serious damage. His ribs were shattered. He lost a kidney and half of his liver and intestines. He was diagnosed with an incomplete T12 vertebra thoracic spinal cord injury and was told he may never walk again. Months later, LaQuan left the hospital with a shattered body completely confined to a wheelchair.
LaQuan tells, "All my life I was a giver and a helper to others. It was so hard to have to depend on others to help me do everything. Sometimes people wanted to help too much. I am determined to find a way to gain back my independence and reclaim my life."  
Unfortunately it wasn't just his body that was shattered. LaQuan's entire life began to implode. Because he was so new to his job, none of his benefits had gone into effect. Medical bills became insurmountable. He couldn't work; hence, he lost his job. Because he was unemployed, he couldn't pay his bills. Hence, his credit score crashed and the dream car he worked so hard to get was repossessed. Relationships fell apart under the stress of it all. It was so hard to comprehend how a life full of so many blessings could so quickly be destroyed. 
But LaQuan did not give up. He was determined to rebuild it all. He began his initial rehabilitation locally, until he was strong enough to travel to Tampa where he was offered specialized treatment at the VA hospital's spinal cord unit. It was there in the walls of the VA hospital that LaQuan Taylor began to define what his new "normal" would be.
Twice a month he would make the trip to the VA hospital in Tampa to seize every opportunity he could to strengthen himself.  At first, someone would drive him the few miles from his mom's friends house to his appointments, but as he got stronger he insisted on wheeling himself. On hot summer days he would go extra early to beat the heat. He tells of a time that he was so tired and consumed by the heat that he actually fell asleep in his wheelchair at a crosswalk waiting for the light. 
Along his journey, LaQuan has had a lot of time to reflect on the dramatic turn his life took. Though he was a victim of a random act of violence, he never latched on to the victim mentality. He isn't angry and doesn't dwell on "why me?" Instead he feels in some odd way that this was his calling. He shares, "That day they took my car, but they gave me life. This has put everything in perspective. I was made for this. It was meant for this to happen to me. I don't yet know what the purpose of it is, but my steps were ordered. I am strong enough to handle this."
Speaking of steps, LaQuan's faith and determination have paid off. In November he took his first steps and is now able to walk with the support of a walker. He has returned to school and is working to earn a website design and development certificate, with the dream of starting his own business. He met the woman of his dreams in Tampa and they are set to be married next summer. And thanks to a grant from the Trust Fund, he just bought a modified car that will allow him to drive again. 
LaQuan Taylor takes one day at a time and gives each his all. With a big smile and a grateful heart he says, "Some things may be out of my limits now, but there are still so many things that aren't. I intend to live my life to the fullest!"
Did you find what you were looking for on this page?